Hailmi Jamal
Hailmi Jamal is a renowned tailor amongst his peers. He has been in this since 1999. His delicate handwork, eye for details and a good sense for colours are his inherent trademark.
Hailmi has made suits for VIPs and local celeberities such as Safee Sali, Ally Iskandar, Ahamd Fedtri Yahya of TV3, Dato' Sri Farid Ridzuan, Tan Sri Datuk Syed Mohd Yusof Syed Tahir (Tan Sri Jojo) and many more.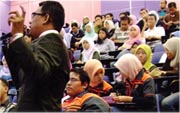 Managing Smart Tailor has given him the opportunity to put into practice, his creative and tailoring skills at its peak. This makes Smart Tailor one of the fastest rising tailors in Shah Alam. Its outlet in concorde Hotel provides and ideal and comfortable ambience for its clients.